This blog originally had a grand purpose for birding around Marshside and beyond. The map and info Pages section is still useful for that, but for rolling news of sightings and general discussion that purpose has perhaps been overtaken by the ease of use of other web developments, and I'd particularly recommend taking a look at the Ribble Estuary Nature Facebook Group.
These pages are now a repository for me to share photos and videos of my birding in and around Merseyside and occasionally further afield, and to provide me with an outlet for the occasional rant. You'll find digiscoped photos and videos with a bit of reportage as the main posts; some useful birding info and resources are in the static Pages section.
Short form url: http://ow.ly/3b5PK
For other, more regular, blogs I recommend that everyone keeps a daily eye on John Dempsey's Birdblog – probably the best online birding journal in the world (Theakston's Best please, John …) as well as other local blogs of which there are links below. Of these, Colin Bushell's Ribble to Amazon is currently the most regularly and enthusiatically updated and carries most useful information.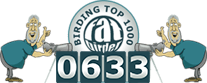 March 2014
M
T
W
T
F
S
S
« Dec
1
2
3
4
5
6
7
8
9
10
11
12
13
14
15
16
17
18
19
20
21
22
23
24
25
26
27
28
29
30
31

Comments & Sightings
Pages

Categories

Recent Posts

Archives

Blogroll

The Big Websites

Flickr Photos

Meta